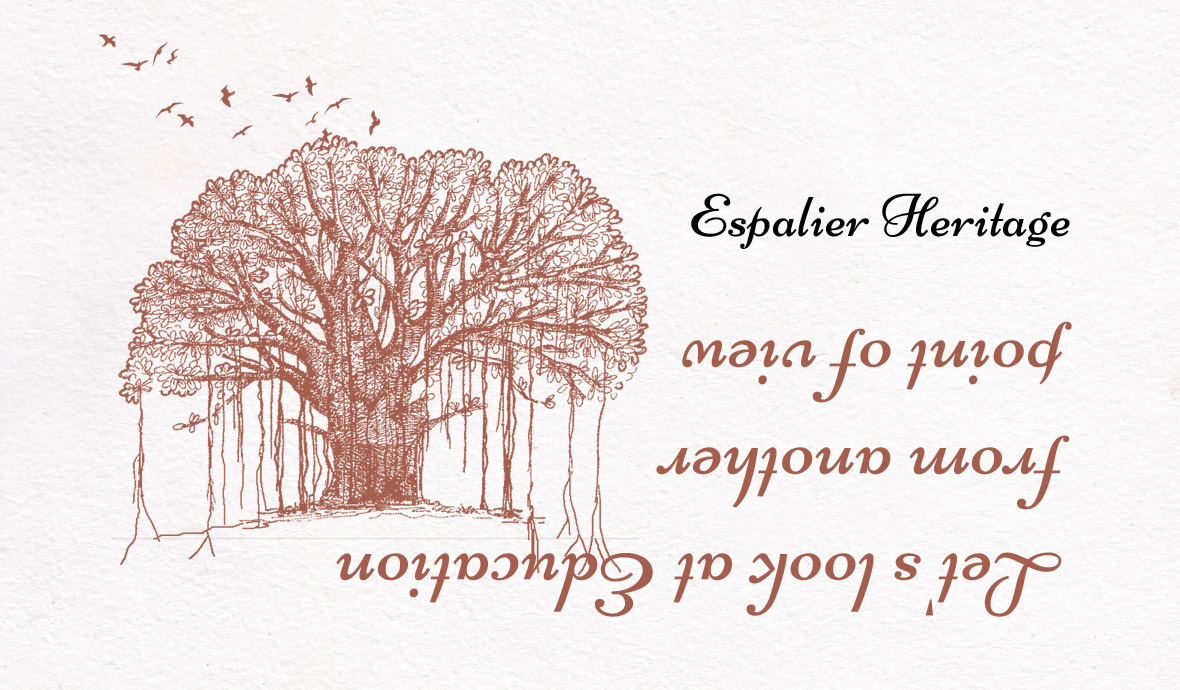 Welcome to
the official website of
Espalier
Heritage School
Introduction
Espalier - The Heritage School is a concept based school. Amidst the nature, a place loved by kids where colours are brighter, the air is softer and the mornings more fragrant than ever again. Here with experiential learning and hands on activities a child discovers and explores the world around him.

Espalier aspires to give every child the very best. In Espalier we believe in "Holistic child development".
School Philosophy
Espalier - The Heritage School is based on Gandhi-Einstein philosophy. After an in depth study of Mahatma Gandhi's Nayee Taleem, research papers of renowned neuropsychologists and comprehending Einstein's quest for curiosity as a powerful tool of learning, education activist Sachin Joshi formulated a curriculum build around Brain Based Education system to gain academic success.
The development of analytical ability for independent thinking and decision making should always be placed foremost. Hence, Espalier strives to imprint 'Self reliance' on the minds of young learners. A key feature of Espalier school is Experiential learning which promotes self confidence and ignites the life long process of learning.
The curriculum is directed towards mentoring free thinking, responsible and skilled young individuals. Based on constructivism and Theory of Multiple Intelligence, Espalier is committed to:
Ignite a spark in individuals for Novel and constructive thoughts.
Promote curiosity and imagination.
Infuse passion for innovation.
Motivate out of box thinking.
Inculcate deep respect for parents and pride for their motherland.
Holistic child development with an attitude to win the world.
Educating the mind without educating the heart is no education at all - Aristotle
Curriculum:
CBSE with Experimental Learning
Brain Based Education system
Scholastic with life skill education
Infrastructure:
School building as a learning aid
Huge Heritage campus of 10.5 acre
Well equipped Auditorium
Library in Heritage Railway
Aesthetic classrooms
Student friendly furniture for healthy posture
Three Amphitheatres
Technology:
Smart classes
Digi Tables
E-Library Online Exams
Information Technology and social science
Subject lab for languages
GPS enabled Transport
Multimedia Labs
Kindle
ERP Management software
Electronic I-Card
Experience:
Design lab for carpentry, pottery and handicraft
Farming plots for every class
Huge Role Play zone(2000 Sqft)
Botanical (Herb) Garden
Cattle shed and Dairy
Yoga and Meditation zone
Sand Pit
Performance stage in every class
Montessori set up
Hands on Science Lab
Sports:
Horse Riding Table Tennis
Basket Ball
Archery
Indian Traditional games
Cricket
Adventure Zone
Balancing Beam
Rock climbing
Life size Chess zone
Kids Gym
Creativity:
Design lab for Pottery
Carpentry and Sculputre
Art and Culture
Performing Arts
Indian Classical Dance & Music
Music and Recording studio
Innovation:
Experiential shops
Sensory Pathways
Touch and feel zones
History on walls
Live Espalier FM Radio
Live TV News Station (By Students)
Green Mind:
Water Harvesting
Solar Panels
Zero Waste management
Wind mill
Pathshala:
Open Classroom
Machan
Swing Classroom
Tree Shade
Gazebo
Waterfall
Glass Pergola
Enter the Website